Welcome to our NEW Online Banking Platform and NEW Mobile App
We spent much of 2020 building our new system based on consumer trends, member feedback, and changing technology. Our goal is to provide you with a whole new level of simplicity, usability, and functionality while you bank with us. We look forward to hearing your feedback in the days and weeks to come!
After you log in for the first time, we ask that you review a few things:
✓ Accounts

You may notice some accounts shown that were not shown on our previous system. With our new system, we hope to provide you access to every account you're associated with at the credit union; this could include Joint accounts, Custodial accounts, and even Trust accounts. If you do not want to see any of these new accounts that are being shown, simply click on your name in the top right, go to My Settings, and then Accounts. You can hide and/or rename any of your accounts.

✓ Bill Pay

Check the Bill Pay widget shown on the left-hand side. Take a look-through and confirm that all of your payee information and scheduled Bill Pays are showing. If they are not, you will need to add them in again. Historical Bill Pays will not be shown but can be viewed on past monthly statements.

✓ Transfers

Go to the Transfers widget and click on Scheduled. Confirm that all of your previously scheduled internal transfers have carried over. You will need to reset up any transfers to external accounts (for example, from your Checking account at Direct to a Savings account at another Financial Institution).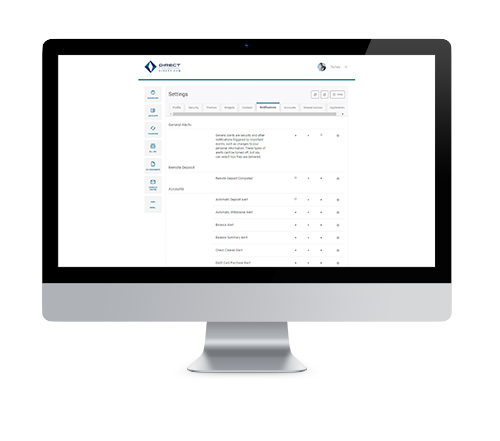 ✓ Alerts

Set up any alerts you would like to have on your accounts, including balance alerts and transactions. Alerts set up on our old system will not carry over.
✓ Card Management
Register your Direct ATM, Debit, and Visa card under the Card Management widget. Once registered, you can turn the card on/off, submit travel alerts, and more.
New features are available both in our Online Banking Platform and Mobile App.
NEW Design
The platform is organized by widgets, all of which are accessed through the navigation on the left-hand side of Online Banking, or the bottom of the screen on our Mobile App. We have included the five most popular widgets on the home screen for you to see when you first login. If you click More and then click Widget Options you will be able to reorder the widgets and add/remove widgets to your top five. Under Widget Options there is a description of each widget and what it does. We recommend taking a read through and seeing what may help enhance your banking experience.


Greater Flexibility
You will now be able to see all of the accounts associated with your Social Security Number, under one login. This includes your Business accounts, Trust accounts, Custodial accounts, and even Joint accounts. Joint account owners no longer need to share a login. If you are now able to see accounts you don't want to see, you can go to My Settings and click on Accounts. Here you will be able to hide/unhide and rename your accounts. Joint account holders no longer need to share a login and can create separate logins for the same account.


Settings
In Online Banking, in the top right, under your name, you can go into Settings and completely customize your Online Banking experience. You can change the color and background of our Online Banking Platform, you can reorder our widgets with the ones you plan to use most, and you can reorder and rename your accounts.


Transfers
This one-stop widget allows you to easily move money between accounts, send other people money, and set up recurring transfers. Simply click which account you want to move the money from and then select where you want the money to go. You can easily add an account at another bank or credit union by clicking Add External Account. You can create recurring transfers, schedule one-time transfers, or instant transfers. Any previously scheduled INTERNAL transfer should show under the Scheduled tab. You will need to reset up any external transfers, previously done through PopMoney or Cash Edge.


Card Management
You can now control your Direct ATM, Debit, and Visa cards from Online and Mobile Banking. You will be able to place travel notices, block and unblock your account, and even set daily spending limits.


Savings Goals
We know how important Savings are, and we also know that everyone has different goals with their Savings. Our new Savings Goals widget allows you to set goals personalized to your financial needs. The widget will calculate how much you need to save each month to meet that goal and will help track your progress.

I have never used your Online Banking Platform or Mobile App before but they sound great! How do I sign up?
We appreciate your interest! Click here to register.
How do I login for the first time?
To login for the first time, visit Direct.com and enter your Username and Password that you have always used at Direct in the top blue box. You will be asked to accept Terms and Conditions, verify your identity, and then be prompted to change your Password.
Do I need to download the Mobile App again?
For iOS, you may not have to download our new App if your phone is set to Auto-Update. Our new app has a navy-blue icon with a white diamond in it. You will be able to tell if your phone has auto-updated by whether or not the icon has changed. If it has changed, you can follow the instructions on the screen to login for the first time.
If you have an Android, or your phone as not updated, please delete our current App, visit your App Store, and redownload the Direct Federal app. You can search for Direct Federal to easily find it.
Do I need to set up my Bill Payments again to companies like my Electric Company?

All of your Payee information for Bill Payments should carry over. We do ask that when you login for the first time you take a look and confirm they are all there. Please note that past payments will NOT be shown on our Bill Pay widget. You will be able to reference past Bill Payments on your past monthly statements.


Do I need to set up recurring transfers between my Direct Federal accounts?
No. These will carry over and should appear in our new Online Banking Platform. We do ask that you click on Transfers when you first login and confirm these appear. If they do not, you will need to set up the transfers again.
Why do I have to change my password?
For security purposes, we do not store your password. This means, when we converted our system, we were not able to convert your password from one system to the next. This is for the safety and security of your accounts. If you would like your new password to be the same as your existing password, you are welcome to choose the same password as your "new" password.

Why am I now seeing my child's account and/or accounts I did not see previously?
You are able to see and access all of the accounts your Social Security Number is associated with at Direct Federal, under one login. This includes Custodial accounts, Joint accounts, and Trust accounts, all of which you could previously not see from a single login.
If you now see accounts you don't want to see, you can go to My Settings and click on Accounts. Here you will be able to hide/unhide and rename your accounts.
I have a Joint on my account, can he/she/they have their own online banking?
Yes! The Joint account holder can now create their own user login.
HOURS


Monday—Friday


8:00 am-5:00 pm


Saturday


8:00 am-1:00 pm

Zelle and the Zelle related marks are wholly owned by Early Warning Services, LLC and are used herein under license.

Equal Opportunity Lender. Your savings federally insured to at least $250,000 and backed by the full faith and credit of the United States Government. National Credit Union Administration, a U.S. Government Agency.

© 2020 DIRECT FEDERAL CREDIT UNION